Streamlined Machine Design With New Thomson Glide Screw™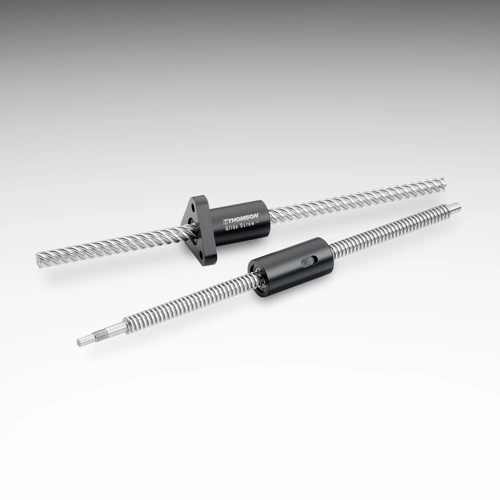 The Glide Screw™ is a breakthrough innovation from Thomson that combines the features of a linear bearing and a lead screw into one compact package. The patent-pending Glide Screw™ brings to you three tangible values: reduced footprint, improved equipment uptime, and lower cost of ownership.
■ Reduced footprint: Fewer components! – Integrated lead screw and linear bearing with no additional guidance needed.
■ Improved equipment uptime: Screw and linear bearing are already aligned.
■ Lower cost of ownership:
o Easy to install: Minimal prep time makes the install process fast.
o Minimal maintenance: Integrated Thomson Lube-for-Life lubrication block.
■ Custom configurations available: Special nuts, screw diameters and thread leads
available to accomodate your specific application.
Which applications are a great fit for the Glide Screw™?
The Glide Screw was designed to solve the challenge where smaller, cleaner, smoother, and quieter mechanical motion products are required, e.g.:
3D printing and engraving
Fluid pipetting / 3-axis lab automation
Test tube handling
CD duplication
Pick & place
Syringe pumps
In vitro diagnostics
Medical imaging
Many others!
The Thomson Glide Screw is genuine innovation, unique in motion control, and available now.